No Results Found
The page you requested could not be found. Try refining your search, or use the navigation above to locate the post.
Working With Our Clients, For Our Clients
Collaboration on Design and Specifications
Creative Solutions for Distraction, Branding and Privacy on glass
CUSTOM DISTRACTION
Specified Markings, are required by code, on glass panels and doors in commercial space.
That doesn't mean they have to be boring.
We design Distraction Markers to be Art on Glass.
Architects, Designers and Contractors
Our Solutions Help You Look Good To Your Clients
We Get The Job Done, On Time – On Budget!
We understand the process and what's involved in making your project go smoothly.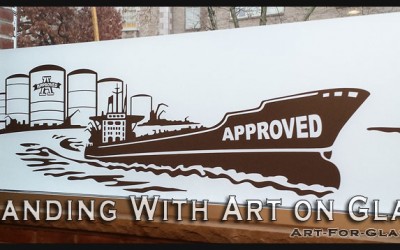 Using Art for Company Branding on Glass. Here are some examples of an alternative process to having the graphics cut out of the solid frost. With this method, we frost the glass and add the graphics in a solid color.
read more
We've Got You Covered!
From Concept to Completion
Design consultation and planning
Resell Our Services
We Make It Easy For You To Offer Decorative Glass To Your Clients.
New York and Beyond
We service the NYC Tri-State area, and can facilitate installations Nation Wide.