A Unique - Functional Design Element
Enhances Glass While Interacting With Light.
NuEtch designs are translucent, creating an elegant combination of art and light.
NuEtch Makes Glass Beautiful and Functional.
The creative possibilities are endless.
Glass will open up a space and let the light shine through. Benefiting from that, while providing privacy, is a common design challenge.
Frosted Glass Designs can achieve any amount of privacy required, without losing the ambient light.
The Look of Etched Glass
The translucent appearance of etched glass defuses light, casts soft shadows, and creates a feeling that other design elements cannot.
Faux Glass Etching is a modern, more cost effective and convenient way to have the look of real etched glass.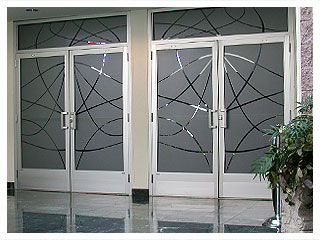 Cost Effective / Fast Turn-around
Same look, but less expensive than Sandblasting or Acid Etching
Faster process than real etching, can be done in much less time.
No down time waiting for new glass.
Most jobs are done Start-to-Finish in less than two weeks!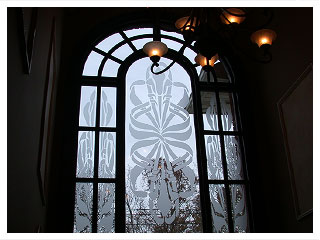 Keep your Glass – Make it Better
A Modern Alternative to frosting glass,

done onsite with no mess.

Add Custom Designs directly to

existing

glass, windows and mirrors.

Get Privacy without adding glass or window treatments.
and… It's Removable
No need to replace, or add new glass.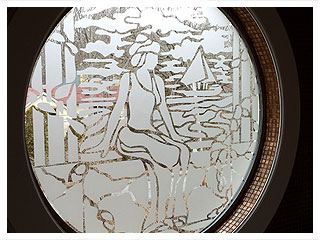 Transform Plain Glass into Glass Art
We work with Architects, Designers and Home Owners to make glass an impressive design element.
Choosing a unique NuEtch design to compliment a decor or design motif, can also add privacy. 
Art for Glass is elegant and functional.
An Alternative To Sandblasting Glass
Our designs are precision cut simulated etch film – not printed decals.
Only the design is frosted, the rest is glass, no clear film – Just like real etching.
Looks more like etched glass, and lasts longer than static cling or printed decals.
Every Design is Custom Made – by hand in the USA.
Is NuEtch Better Than Real Etching?
"That depends on the project requirements, turn around and budget."
NuEtch designs look very similar to real etched glass.
They can be done faster and applied to existing glass, for less cost than real etching.
NuEtch designs can last for many years, but can also be removed without replacing the glass.
That's just not possible with real etching.
Sandblasted glass is better for permanence, gradation and texture.
Real etching comes with higher costs, additional glass installation and longer time requirements.
If your project requires any, or all of the follow:
Fast Turn Around
Use Existing Glass
Needs to be Removable
Then NuEtch is a better choice than real etching
Applied to Existing Glass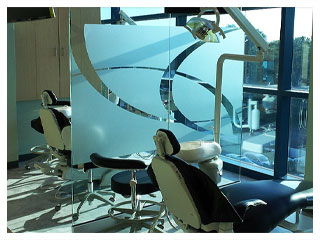 NuEtch applications can be applied to existing glass, at the location, without the mess and dust of conventional etching.
Our solutions can be applied to any smooth glass or mirror, even tempered glass. They are applied to the interior side of windows, both single and double pane, for longevity.
We use your existing glass or windows, so there is no downtime waiting for new glass to be installed or replaced.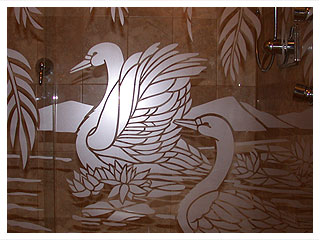 NuEtch Art for Glass is a custom fabricated Faux Etch Glass Design made from premium grade simulated etch film.
Its Durability and Appearance is superior to Decals or Static Cling faux etching.
It has the appropriate frosted look and translucency to simulate real etching. When looked at from an angle, you can even see the "depth shadow" present in real etched glass.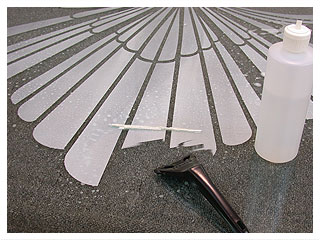 When cared for properly, our decorative glass solutions can last for 15 years or more.
Our designs have been installed in high traffic areas at Restaurants, Hotels, Hospitals, etc.
However, should you ever wish to change or remove a design, they are removable without damaging the glass.
This is an added benefit for rented space.
Every Decorative Glass Challenge is Different.
We Can Help Find a Solution.