From Concept to Completion
Design consultation and planning
Personal design consultations.
Project planning, management and advice.
We work with designers and end users.
State-of-the-art, digital design and project management
Custom Design Services
Digital composite proofs
Shop drawings and design renderings
Online project management system

Quality Finished Product
Fabrication
Onsite Installation
DIY Self-install designs
Working with partner companies
We Make It Easy For You To Offer Decorative Glass To Your Clients.
Designers know how to sell their design services, glass companies – glass, and GCs – remodeling.
NuEtch provides a value added service, that you can resell to your clients.
We want to make you look good to your clients, and can even work with them on your behalf.
Some of the companies we work with:
Architects / Designers / GCs
Glass / Mirror/ Showerdoor / Window
Cabinet / Kitchen / Remodelers
Window Film / Sign Shops
Use our experience with decorating glass to your advantage.
We service the NYC Tri-State area, and can facilitate installations in most other states.
Our online systems make it easy to work on the design phase remotely, or we can meet face to face.
NuEtch designs and manufactures the highest quality Film Distraction Markers.
We provide on-site installation nationwide, as well as being an outsource service. We also sell of DIY self-install designs.
NuEtch is a fully insured NY Corporation.
Learn More About Distraction / Safety / Privacy For Glass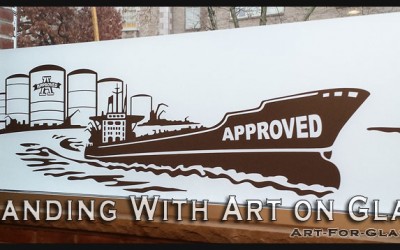 Using Art for Company Branding on Glass. Here are some examples of an alternative process to having the graphics cut out of the solid frost. With this method, we frost the glass and add the graphics in a solid color.
read more